On my blog, the posts that have been your favorite to read and my favorite to write have been the prediction, clue tracking posts. I've done two for Halsey so far that have spanned months of small details. The first for Badlands and the second for what became About Face. Now, I have a chance to write one for another one of my all time favorite artists, Conan Gray. I've followed Conan for over a year now, and he's quickly joined the ranks of my favorite artists. I got to see the end of the beginning of Kid Krow's release, so I'm excited to be here for CG2 from the very beginning. I'm not going to lie that I'm surprised the era is starting already, but I'm excited none the less, and I want to remember everything and the wrong theories we have and exactly how it plays out. If you follow me on any of my platforms, you know I have a thing for documenting and nostalgia, so here it goes.
5 Weeks Ago: First, going way back in time to January 4th, we have an Instagram comment from one Daniel Nigro. I wanted to backtrack and pick this one up because it was the first sign that the fandom might get new content soon. On a selfie Conan captioned "here comes the boy with the curls", Dan wrote "LP2Lewk". If you don't know, Dan is Conan's producer and basically sole collaborator on past records, and LP means an album. Conan's next project will be a second album. Replying to Dan, one of Conan's A&R people at Republic commented "🤫", which further implies Dan wasn't just joking. Fans think that Conan's caption could be a future lyric, though I'm not totally convinced yet. Also, Julian Kent, another A&R on Conan's team commented "🎬🎬" which makes my mind jump to music video for a lead single??? Knowing what I know now, this selfie really doesn't match with the apparent album vibes, but only time will tell how these are connected.
Also, if we want to go even further back in time, at the end of August (8/24), Finneas mentioned that he had been talking with Conan about cancel culture and working with him on the song. It's widely believed this collaboration will be the first single. Finneas also recently interacted with the last thing Conan posted on Twitter.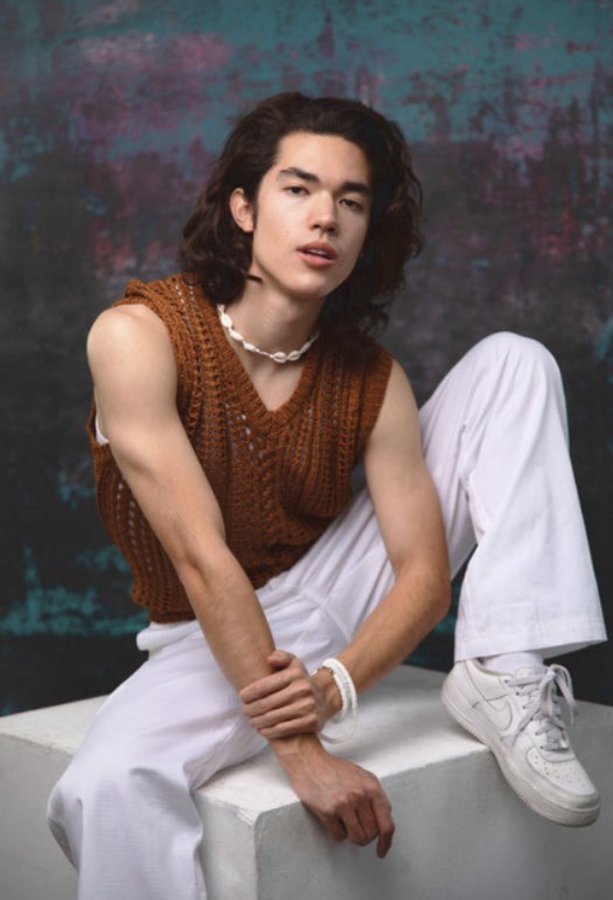 2/10: A glitch from Spotify or Conan's team (unclear who), new photos of Conan appeared on his artist page for some people. They were quickly reverted to the original photos, but it definitely seemed to show that something would be on the horizon soon. I'll include the photo on the side here. These pants and shoes were in a story back in October along with a pair of cowboy boots.
2/11: Morning: There are a couple other moments that could be clues in the social media activity in recent weeks, but I can't figure out what exactly is a clue and what's just randomness, but he has been posting plenty of stories from Dan's studio. It seems like they've been working to tease music that's coming because Dan has also posted "guitar day" and "piano day" stories. But the first concrete CG2 sign came last night.
I'm not sure what time the website updated. I'm guessing it was midnight last night, but I saw it first thing in the morning, but there is now a countdown posted that's the first thing you see when you visit ConanGray.com. There's a countdown clock prominently in the center that's counting down to midnight a week from today (2/18). There's also a Spotify pre-save link, which I clicked to try to get more information. It just says "Thank You" afterwards. Not sure what I pre-saved, but I'm guessing it'll be a lead single since the countdown ends on a Thursday night at midnight- the time basically all music is released. This countdown page features a moving train that runs on loop entering and leaving the station. When I saw it on my phone, the video is super tight cropped and it looks like it could be the subway or the L, but on my computer screen in wider view, it looks like it's actually a train and there might be beach on the left hand side. It instantly reminded me of the train in Conan's old vlogs that he would take from LA to San Diego. It's dark and ominous feeling in the video.

Evening: About thirty minutes to midnight easter, Conan updated his layout on all social media platforms (except TikTok). He changed his layouts around October or November for no reason, but these layouts seem coordinated to the train's vibes. The profile photo is dark and nearly ethereal. It's hard to tell much from it because it's so small and dark, but it has an old, blurry film camera vibe. And it has a Gothic, grim feeling. What really got me was the banners posted on YouTube and Twitter. YouTube is less telling because you only see one hand close up. In the Twitter banner, you see there are two hands reaching out for each other but there's a gap keeping them apart. The image is incredibly captivating, even in a small slice. It's a photo that makes you want to write a poem. These photos seem to set the tone for the era. And I'm EXCITED. I wasn't sure if we'd get darker or lighter from the angsty, sad yet inviting Kid Krow, and it seems like this album could be heading down an increasingly somber road. Given what's happened to Conan in the last year, I could totally see this being the dawn of his Reputation era. And if you know my favorite Taylor albums, you know how exciting that is for me. So those are my predictions for now, and I'm sure there will be plenty more updates before the clock runs out.
2/12- Morning: So here's a weird update. Sometimes overnight the "Heather" music video description got altered. The first sentence now reads,

"

The train is leaving the station on 2/19/21. Visit conangray.com for more." I got really

excited

that more meant more than I had already seen, and that was not the case. It's still just the countdown. This line has only been added to the "Heather" video which is strange because it's not his most recent upload, and it wasn't added to any of the other popular music videos. I'm assuming this is intentional. Maybe it's a hint that the new music video is going to be created by Dillion and Kendall like the "Heather" one was. Maybe it's simply there because "Heather" is his most popular video at the moment so he thinks most people will see it there. Personally, I think it would've been a great Easter egg to add that line to the vlog where he got stuck at the train station for a few hours. Dissecting the statement, the train leaving the station feels ominous and like more than just a single song. I'm assuming the train is the new era, and it's starting on the 19th. It also feels like one of those "once you leave you can't come back" things. See it for yourself here.
Also, one more quick update is that his Spotify page has been processing an update since last night. It doesn't show up on mobile, but there's a new header on web player that seems to be another photo from the same shoot as the other layouts. The artist profile photo is still the same. This is truly the slowest roll out development, and Conan has said absolutely nothing about it. I guess we'll finally know in six days and fourteen hours.
1/12: 10:30 MST: AHHHHHHHHHHH! Conan finally showed up to give us another hint at what this new song will be like. This time, it's a teaser video on his Instagram simply captioned, "new song. one week." In the clip, there are some somber piano chords and you see Conan standing face to face with a girl with song hair. There's lights coming towards them before the train appears to hit them. It fades out before the impact, but that seems to be implied. So I'm guessing the song is... sad? Still no title yet, but I'm assuming that will be in the daily hints to come. This post ties together the train countdown on his website and the message on the "Heather" video. I just didn't think it was "The train is leaving the station... to hit Conan Gray".
2/13: Morning: I have absolutely no clue what today's clue will be, but the mini update for right now is that the Spotify page for the app has restored the leaked photo from earlier in this post under Conan's artist bio. They also finally updated Conan's artist bio on the platform. Up until last night, it still talked about how he was going to play Coachella and Fire Fly in 2020, and it was more than a little depressing thinking about the year that never happened. Now it's updated with Kid Krow stats, his Elton John and Taylor Swift notices, and the fact that Kid Krow is actually out in the world. Oddly, Conan's old profile photo is still the banner on the Spotify app despite these updates. Only web player is updated with both the new artist photo and the new header.
2.15- Around 10:30AM MST: Just when I was starting to think that Conan had forgotten about us and the fact that he has a brand new song to promo, we get a new teaser. This one is even more confusing than the first, which lit Twitter on fire. This video seems to be shaping up to be an entire journey. Departing from the train motif, we get a close up of Conan's face in bright red light. It looks like Conan and the girl have been through a lot since almost getting hit by a train. I completely didn't notice the girl at first since it's mostly his face in the frame, but if you're paying attention, on the far right, you can see her lips up close. Her hand might be on his face. It almost seems like she's cupping her hand around his ear to tell him a secret, and that would explain why he smiles at the end. I can't totally make it out given how small the video is on my phone screen and how short the run time is. They're both drenched, and Conan has a grim look on his face. In the second before it cuts away, they both smile. Sonically, there's not much new. The piano melody is the same as the very end of the first teaser. It's interesting that they're not giving away more of the song.

Also, another exciting development is that Dillon seems to be directing this video again. I'm so thrilled about that because Dillon is one of Conan's friends, and he's responsible for the album art for Kid Krow along with the music video for "Heather", which is Conan's most stunning, vulnerable video yet (I wrote about it here). He posted about it originally, but today, he posted a story with a slightly different angle than the clip Conan posted that reveals much more of the girl's face. She seems to be wearing a heart jewel on her cheek which is adorable. The clip ends by simply stating "four days", and he's still calling it "new song", which is plenty cryptic. It's making me think that the song's title is tied into the larger world of the new album cycle, so it can't be revealed till the album or something like that. I'm hoping we'll get a track list soon.
Based on this teaser, I'm thinking it might actually be a happy song? Like the world is against them but they have each other based on the close smiles. Maybe just the world is dark and that's the deceptive part of the video. Maybe they're even criminals trying to make it out? The red lighting seems to fit that vibe. Also, in the full sized teaser on YouTube, they seem to be rocking like they're on a boat. Regardless, they seem to be on some kind of treacherous journey. I'm hoping we'll get more soon and not have so many days between clues now that we're getting closer to the end.
2/16: Evening: Here's an extremely upsetting, confusing update. Twitter lit up about half an hour ago because they discovered a live scheduled on MYX Philippines with Conan. It even featured a new photo from the shoot that's now in Conan's profile photo. Apparently they also tweeted about it and created Insta posts. A few minutes ago around 6:30MST it all got removed. I went to pull it up on my computer and it wouldn't appear. On my phone it says removed by uploader, and no one knows what's happening. It's probably not a prank considering it's a real media company and they had an exclusive photo, but what went wrong? Because it's not out of the ordinary for Conan to not give a heads up about lives and appearances, it's hard to know whether it was an error with the company or from Conan's team? I'm confused and definitely deeply disappointed. I'm hoping it maybe launched too early and is meant for later in the week. It was set to begin at 7:00MST.

Okay, quick update: MYX Philippines put out a statement saying, "Hey everyone! We regret to inform you that our #MYXclusive interview with Conan Gray will not push through. Thank you and we hope to have him on MYX again soon!" So this seems to be a sudden issue that's come up with Conan or his team considering it was cancelled a half hour before. This is all very weird. Here's the new photo at least.
Shortly after this, a new fan photo with Conan was posted from the wine section of the grocery store and it was posted right around when the live got canceled. This isn't really an update about the album, but now disappointed fandom Twitter is making grocery store jokes to console itself. And in this weird set of events, I would say this is the perfect cherry on top. In the photos, Conan is wearing a double mask, which all of you should be doing!!! I try to be serious on here with my reviews and updates and stuff, but tonight has gone slightly off the rails.
2/17: Around 10:30AM: Hello, plot twist! Like I'm honestly in shock with this third teaser that Conan has shared everywhere. We finally know the title of the song, and if you're in the fandom, you've probably already heard the song. Conan shared that "Overdrive" is coming out tomorrow night and revealed more of the video. He included the first few bars which enacted a visceral reaction in the fandom, mostly of confusion. The song leaked to Musically back in July and was added to YouTube and taken down a few times. Recently, a new version got uploaded that stayed up for a couple weeks. Everyone assumed "Overdrive" would be a forgotten song from a forgotten era, especially since the almost disco vibe doesn't fit the dark theme he has going. The fandom has some seriously mixed feelings about this release. For my part, I'm just really confused because the piano in the original clips is not at all like anything in "Overdrive". Also, he has to know about the song leak? I am excited for the video, though. The new clip reveals even more about the video including the identity of the girl and a clip of Conan with smeared eyeliner remincient of the Euphoria make-up. I think it'll make an amazing music video, but I think I'm still disappointed we won't be getting new lyrics from Conan. Hopefully, there will be a follow up single soon. This video looks wild, though, and I'm ready to see how he tells that story visually. I certainly didn't think that it would involve trains.
Having thought about it for a few hours and listened to the clip a couple times, it seems like the leak was also a demo version because there are slight differences in the accents of the new clip. This could potentially mean that there could even be swapped lyrics or major differences between July's version and the one from six months later. Also, I wanted to add a disclaimer that it's best to avoid leaks whenever possible, but this was pretty widespread, and I think we all just gave in to listening to it because we assumed it would never get a formal release.
Also, the teaser on YouTube offers a much wider view of the video, and it looks like Conan is hanging off of the back of a car in the second clip. I'm curious how the train and the girl translate to the second clip. I have to wonder if there will be a couple intersecting storylines. It is also giving me major WYWS 2.0 vibes.
Okay, last theory for today is that CG2 is a concept album or at least interconnected because the piano chords in the other teasers are really throwing me off. I think they might be from a different song that's attached to the larger "Overdrive" storyline? If you saw anything from Louis Tomlinson's Walls rollout, you know all of his videos were part of the same heist story even though the songs were unrelated, and I think that's also a possibility too. I think the piano chords weren't just to throw everyone off but to connect in the larger era. That is, if we are in the CG2 era. There's been some debate if this is an extension of Kid Krow still, but the countdown and layout switch seems to point to larger things to come instead of a one off single.
2/18: Morning: "Overdrive" is slowly making its way out in the world. The release wound up being a local time release. These are never my favorite because if you're in the US, you're bound to run into a spoiler. I saw the song art first thing this morning, but I decided against sharing it here until the actual song comes out. I also saw the songwriting credits, which I wish I didn't. I've been trying to avoid the internet till the song release, but I do have a mini update! Conan's Apple Music profile has updated including the cover of his "essentials" playlist with a brand new photo that's different from the Spotify layout. It honestly matches the "Overdrive" vibe more than his main layout.
Last night, Conan also posted a photo playing what looks like The Settlers of Catan board game with iykyk written on it. He posted an almost identical story back in December. To play the game, you roll a hexagonal dice to play. "Overdrive" contains the lyric "throw the dice on the table", and this was probably a hint that everyone totally missed. It might be his way of saying he knew about the song leak and hinting at the lyrics. I have no theories about the meaning behind the video of the squirrel in black and white backed by sad Simon and Garfunkel music.
I guess now is a good time to also note for the last few months (since early December?), Conan has been posting aesthetic photos and videos along with songs. I've always thought that they were clues of some kind because they were different from Conan's usual story posts, so I've been saving all of the songs from these stories in case they ultimately link to the album. If you want to listen to those songs, here's my playlist of them.
2/18: Evening: As we wait the final three hours for the video and song to come out, press is slowly starting to trickle in. In maybe the shortest interview of all time, Conan talked to Coup de Main about "Overdrive". Conan talks about how the song came out of the lonely days of quarantine, "I wrote 'Overdrive' to escape reality. I've spent the entire past year moping around alone in my house, I wanted to make something to get me to dance around my house." He also talked about how listening to potential mixes always made him immediately forget about his stress, and he hopes listeners will have the same experience. He closed poetically, adding, "Just a moment of reckless abandon and catharsis in a world filled with inhibition."
2/19: Morning: "Overdrive" is out in the world now. For now, it's just a song and lyric video, but it seems like a video is on the way. There was a quote that went up on the Red Dork saying, that Conan "personally wrote, directed, shot, and edited, alongside frequent collaborator Dillon Matthew". I'm not sure where that's coming from exactly because the only other quote in their article is out of Coup de Main, so it seems like they don't have an exclusive interview. It does seem like Dillon directed the project, though, as he's been heavily promoting the teasers on his own social media.
Conan didn't make a grid post talking about the song, but a couple more interviews have come out recently. Most notably, for NME, he talks about releasing the song, his new album, and how the pandemic has altered his songwriting priorities. Conan again cites "escapism" as the driver for the song. He said, "The song is about losing your inhibitions and just doing exactly what you want to do in a given moment, even if it's a little bit reckless." He continued on adding, "I think that's kind of the main thing I'm craving right now – to be able to live a life without inhibitions because, at the moment, we have a lot of barriers to living our lives. It's really a fantasy. It's a form of escape for me." He said that he's tired of writing mostly sad music and wanted to use "Overdrive" as a way to spread some joy.
We also got some album update news, which hasn't happened in a while. The album is farther out than I originally believed, and it doesn't have a set release date, or even season. Conan has said he's in the middle of the process now. He talks about his drive to create big, overblown moments in his songs that match the romantic he is at heart. As for the topic of the album, he mentioned how quarantine has forced him back instead of forward, "It's definitely not the most mentally stimulating time for any writer so I've been writing a lot about my past," he explained. "I've also gotten very existential in quarantine, like, 'Why do I exist? Is fate real? Is there somebody out there that I just haven't seen yet that's going to change my life forever?' I keep having those types of thoughts, so I've been writing very existential songs. I've been very nostalgic." I included that particular quote from the album because it's by far the most resonate with me. I'm always wondering about what the person who will change my life is doing right now. And I'd pay you a million dollars for an answer to the "is fate real" question. I'm super excited to see how that will be explored on the album.
2/19: Afternoon: Conan finally made a grid post in honor of "Overdrive" this morning. He thanked his collaborators, talked a bit about the song's inspiration, and revealed the video is dropping on Monday. When on Monday is still unclear, but I'm sure we'll find out soon enough. In part, he says that the song was written to, "fantasize about secret lovers and alternate reckless lives we could've lived", which I absolutely love. I'm always thinking about what I'm doing in the other timeline, and this song plays into that as well.
View this post on Instagram
Also, I uploaded my "Overdrive" reaction to my YouTube channel. I spent all of last night and this morning working on it to put it on my channel as soon as possible.
2/20- This article came out yesterday, but I wanted to share this quote that I loved that Conan gave to the Guardian for their article "Big feelings and nowhere to go: how Gen Z reinvented the power ballad". Dan also has some amazing quotes in the article about the future of music, but I wanted to focus on what Conan had to say about his influences because it captures exactly what I love about songwriting, "I wanna know the dirty details – the names, the places, the exact times. I love that about Lorde, Taylor … they aren't afraid to say things as they are, because the nitty-gritty, sometimes unglamorous details are what make life and music true." Later in the article, they dive into identity and sexuality and how the internet has definite Gen Z's relationship with that. Conan ties it back to the space for honesty in songwriting now saying, "Vulnerability and the opportunity to talk to millions of each other through social media really expedited the process of the youth proclaiming who they are and who they love. There is more acceptance for intimate true music, because we as a generation accept that humans need to feel in order to truly be alive."Definitely read the article if you get the chance.
Also, Conan posted on his grid again today with a photo everyone on Twitter had been asking for since it appeared on billboard in Time Square yesterday. He captioned it with my favorite lyric of the song "Don't give a fuck about labels." He's also posted multiple times on his story, including a photo of his neighborhood cat, Sammy, and the almost 1.5 million plays "Overdrive" has gotten so far.
2/21: Afternoon: Still no word when the music video is dropping, but 2 things did happen today. Conan uploaded a video to TikTok dancing with his photographer Dillon and Dillon's assistant, Kendall. They did the Gime's "violence" dance to "Overdrive". Now that the sound is out on TikTok, there's hope that it'll get picked up as a trend. Conan also uploaded an edited audio called "overslush" with the same dance captioned "wonky slush". He's also been replying to people in the comments.

The other new information is that there's an unlisted livestream on Conan's website. It's been up for 2-3 hours so far and has a thumbnail that matches his banner. It's offline and seems to be a mistake, but that does exist. If you want to stare at the chat for a while, here's the link https://www.youtube.com/watch?v=tRtbHCtc7eg. This makes me wonder if there will be a future livestream, maybe around the video release tomorrow or sometime after?

2/21: Evening: So there is a live happening tomorrow! We also finally know when the "Overdrive" music video is coming out (Monday at 12pm EST). Conan will be going live 20 minutes before the video premiers. Here's a link to the livestream too. Conan announced it on his stories as well.


2/21: Twitter got excited when they discovered Conan in the writing credits of a new Issac Dunbar song called "love or lack thereof". Everyone was confused about what Conan's involvement was, so fans tweeted at Issac, and he provided clarification that Conan wasn't actually a writer. But he did share an interesting detail, "no he didn't write it, he was involved somehow in relation with joel little, i guess he made the instrumental with conan in mind and he got writing creds." If you don't know, Joel Little most famously worked with Lorde on her Grammy winning album, Pure Heroine, and with Taylor Swift on Lover. It's amazing to hear that he's possibly working with Conan. I'm wondering if Joel will be a producer on CG2 if he's writing tracks with Conan in mind. I'm still not sure how Conan ended up getting credited through Joel's involvement, but this was a fascinating detail.

2/22: The video is out in the world, and it is spectacular. Conan also went live ahead of it to chat with fans. If you want my thoughts on the video you can find them in the new article I wrote.





3/24 Hello from a month later! Last night Ryan Tedder posted a photo of Conan in the studio booth recording with him, which means that the album does seem to be in progress and past the writing phase!

More On Music, Musings, and Me
Fake Music Video and Song Review